One Step Too Far Play
Demanding puzzle game requiring forethought.
---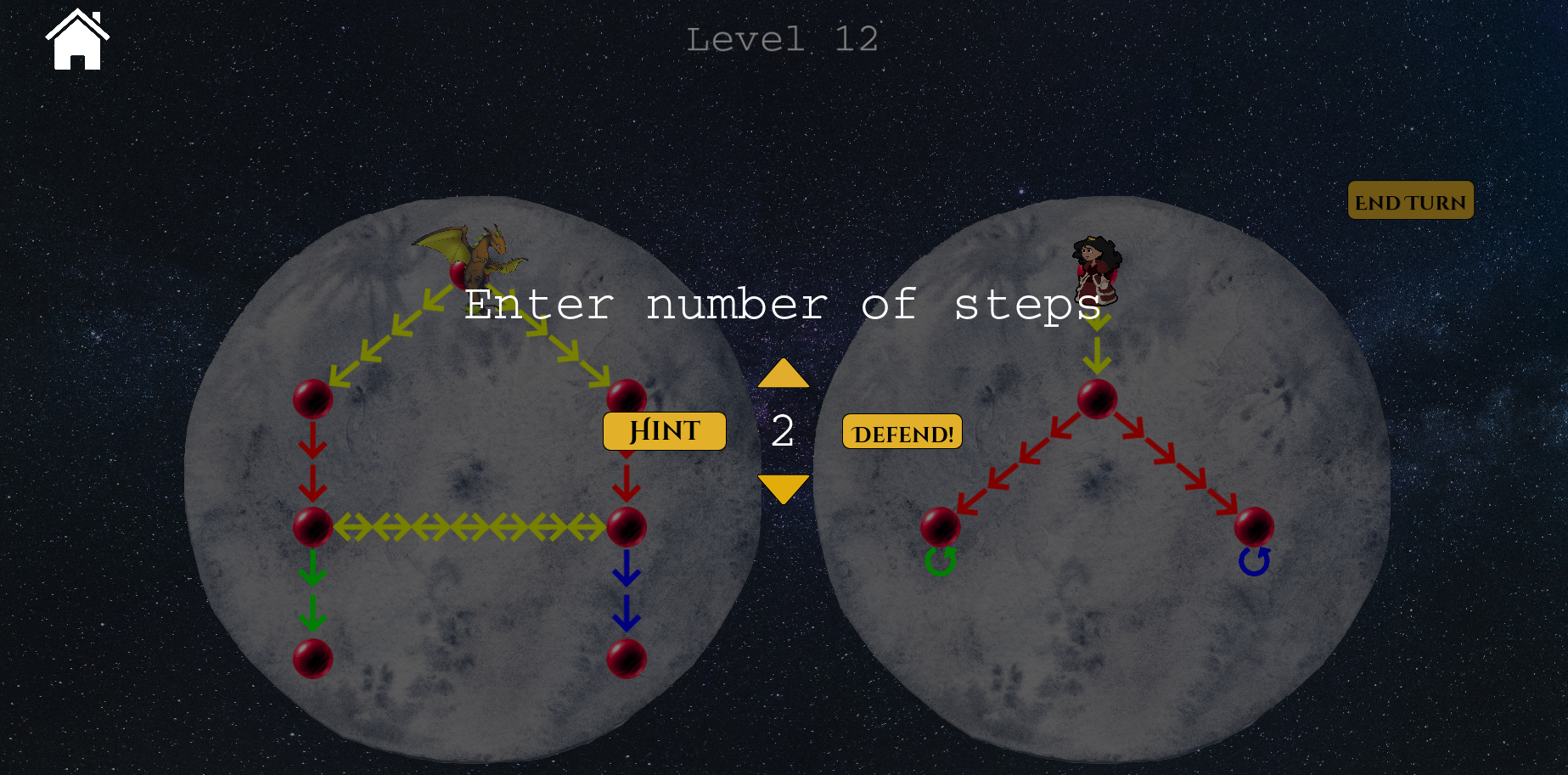 Team

Johanna England
Julian Dschana Kremb
Lucas Hoschar
Lin Fun Cheung
Duy Khang David Dinh
Fabian Stroschke
Iliya Velev
Fabian Onur Willner

Formalismus

Bisimulation

Technologie

Phaser.js

TypeScript
Play in browser
Source
You are a princess and, instead of waiting for a white knight, you're taking fate into your own hands by fighting against the dragon. You're smart, so before you fight you take a look at the playing field and negotiate how many steps he is allowed to take. For every step the dragon takes you have to defend yourself with the same action. If you manage to do the negotiated number of steps, you win and will even get a part of his treasure.
Das Spiel modelliert i-Schritt-Äquivalenz. Jedes Level ist ein eigenes Transitionssystem. Der Drache übernimmt die Rolle des Angreifers und die Prinzessin die der Verteidigerin. Verschiedene Aktionen werden durch verschieden-farbige Kanten dargestellt. Die Welten demonstrieren mehrere Arten der Äquivalenz: bei starker Simulation muss man jeden Zug eins-zu-eins nachmachen; bei schwacher Simulation darf man mit gelben Tau-Schritten überbrücken; bei Bisimulation darf der Drache die Spielfelder wechseln. Indem die Prinzessin am Anfang die Anzahl der Schritte, die sie verteidigen will, auswählt, wird ein i-Schritt-Simulationsspiel durchgeführt.